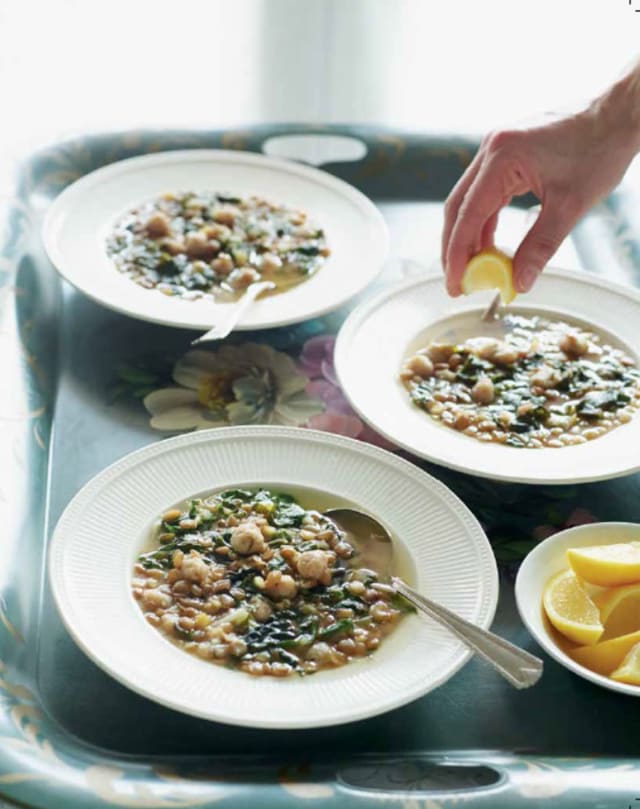 Around the World in 30 Soups: This month we're collaborating with chefs, cookbook authors, and our own Kitchn crew to share a globetrotting adventure in soups from countries and cuisines around the world. Today's stop: Lebanon.
In Arabic, kibbet raheb translates as "Monk's Soup," as this dish, which dates back to biblical times, was often enjoyed during the fasting period of Lent, and on Good Friday among Lebanese Catholics. I love to make this hearty, lemony soup with soft bulgur bites as a warming springtime dinner or lunch, and I'll often make a big pot of it on a Sunday so I can heat it up throughout the week.
When this lemony and garlicky special scent starts to steep and slowly simmer from the stovetop, as the amazing aroma permeates throughout the kitchen and into my soul, I always think of my Sitto (grandmother) preparing this soulful soup in the springtime in Lebanon for her family. My Sitto was a talented chef and thankfully handed her traditions to my mother, who is a master chef in my eyes. (And who, in turn, taught me the true way to cook authentic Lebanese cuisine.)
I shall always cherish this special gift that has been placed now in my hands. I'm honored and humbled that I am able to share my heritage with wholesome soups like this one with the world and with all of you who take the time to take a taste of my Lebanese soul food.
—Julie Ann Sageer, author of Julie Taboulie's Lebanese Kitchen: Authentic Recipes for Fresh and Flavorful Mediterranean Home Cooking