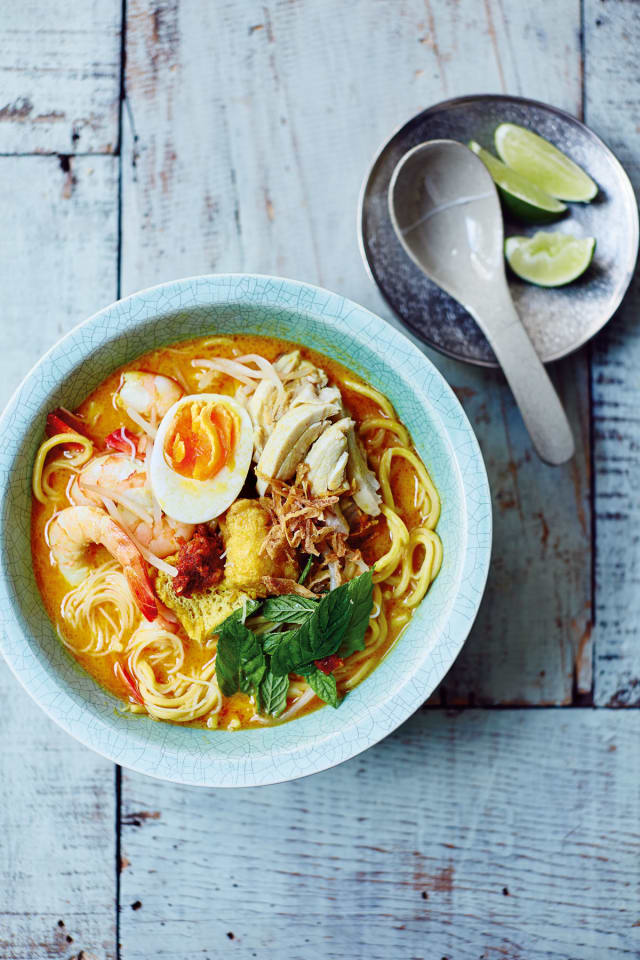 Around the World in 30 Soups: This month we're collaborating with chefs, cookbook authors, and our own Kitchn crew to share a globetrotting adventure in soups from countries and cuisines around the world. Today's stop: Malaysia.
This hot, steaming bowl of fragrant, spicy broth with noodles, prawns, and eggs is a common dish in Malaysia. The key component is the spice paste, which takes a bit of time, but once you've made it, you can keep it in the fridge for up to a month. Alternatively, there are very good store-bought pastes available.
INGREDIENTS
For the chicken and prawns:
2 boneless chicken thighs, skin on
1/4 teaspoon salt
1 1/2 cups water
1/2 lemongrass stalk, bashed
8 ounces shelled raw tiger prawns
5 cups water
Laksa paste (recipe below)
1 cup coconut milk
1 tablespoon chicken stock powder
1 tablespoon salt, plus extra to taste
6 pieces bean curd puff, cut in half
4 ounces dried rice vermicelli
2 ounces bean sprouts
1 (14-ounce) pack fresh Asian yellow noodles
For the garnish:
1 bunch mint leaves
2 medium free-range eggs, soft- or hard-boiled, peeled, and halved
4 lime wedges
4 teaspoons Shrimp chili oil (recipe below)
Crispy shallots, to serve
INSTRUCTIONS
Rub the chicken thighs with the salt and set aside for at least 20 minutes at room temperature.
Place the chicken in a saucepan, cover with the water, add the salt and lemongrass, bring to a simmer, and poach over low heat for 15 to 20 minutes. Remove the chicken and set aside to cool, then cut the meat into strips, discarding the skin. Poach the prawns for 2 to 3 minutes in the same poaching liquid. Once they are cooked, remove them with a slotted spoon and set aside. Instead of just using water, you can use the poaching liquid to make the laksa broth – just top it up with water until it reaches 5 cups and discard the lemongrass stalk.
Bring the water or poaching liquid, laksa paste, coconut milk, chicken stock powder, and salt to a boil. Add the bean curd puff and simmer for 5 minutes, then remove from the heat and add salt to taste.
Place the rice vermicelli and bean sprouts in a heatproof bowl, cover with boiling water, and leave to soak for 5 minutes, then add the fresh yellow noodles to the bowl and leave them for 3 minutes. Drain the vermicelli, bean sprouts, and noodles and divide them among 4 serving bowls.
Arrange slices of chicken, the prawns, a few mint leaves, and the halved eggs on top of the noodles.
Strain the laksa broth through a fine-mesh sieve into a bowl or jug and remove the bean curd puffs. Place 3 slices of puff on top of each bowl of noodles. Make sure that the broth is still piping hot (heat it again if not) and pour the broth over the noodles.
Serve with lime wedges, shrimp chili oil, and a sprinkling of crispy shallots.
RECIPE NOTES
Reprinted with permission from MALAYSIA: Recipes from a Family Kitchen by Ping Coombes and published by Weldon Owen.
—Ping Coombes, author of Malaysia: Recipes From a Family Kitchen