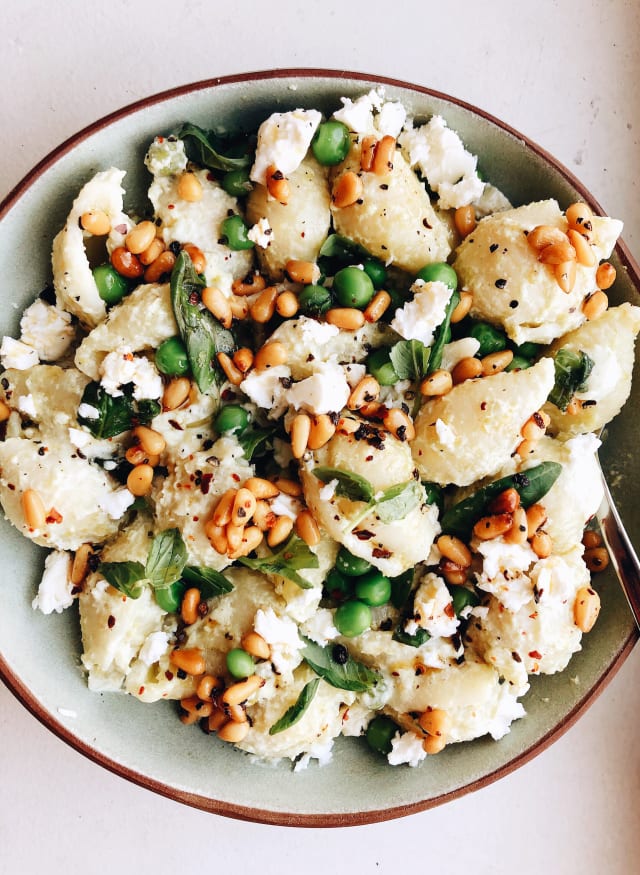 Conchiglie with Yogurt, Peas & Chilly
SERVES 6
INGREDIENTS
2 1/2 cups plain Greek yogurt
2/3 cup olive oil, divided
4 cloves garlic, crushed
1 pound fresh or thawed frozen peas, divided
1 pound dried conchiglie pasta
Scant 1/2 cup pine nuts
2 teaspoons Turkish or Syrian chile flakes (or less, depending on how spicy they are)
1 2/3 cups fresh basil leaves, coarsely torn
8 ounces feta cheese, broken into chunks
Kosher salt and freshly ground white pepper
INSTRUCTIONS
Put the yogurt, 6 tablespoons of the olive oil, the garlic, and 2/3 cup of the peas in a food processor. Blitz to a uniform pale green sauce and transfer to a large mixing bowl.
Cook the pasta in plenty of salted boiling water until al dente. As the pasta cooks, heat the remaining olive oil in a small frying pan over medium heat. Add the pine nuts and chile flakes and fry for 4 minutes, until the nuts are golden and the oil is deep red. Also, heat the remaining peas in some boiling water, then drain.
Drain the cooked pasta into a colander, shake well to get rid of the water, and add the pasta gradually to the yogurt sauce; adding it all at once may cause the yogurt to split. Add the warm peas, basil, feta, 1 teaspoon salt, and 1/2 teaspoon white pepper. Toss gently, transfer to individual bowls, and spoon over the pine nuts and their oil.
Pasta is on weekly rotation in my household for, I'm sure, the same reasons it is in yours: It's easy, it's comforting, and it's something everyone agrees on. During the cold winter months, my go-to pastas are saucier and heartier (think: eggplant Bolognese or baked mac and cheese) than their lighter summer counterparts.
But there are times when I don't want pasta night to be synonymous with a "night off" from how I typically eat. I follow a healthy plant-based diet, and most of my dinners revolve around whole grains, legumes, and vegetables, so it's nice when pasta night can fit into this type of eating. Enter: this Yotam Ottolenghi pasta dish (from his cookbook Jerusalem), which is light, fresh, and packed with protein while still satisfying all my winter pasta cravings.